You may deposit funds to your futures trading account in the following ways:
1.Checks(U.S. Only)–PLEASE MAKE ALL CHECKS PAYABLE TO AMP Global Clearing LLC
AMP will only accept checks drawn from U.S. Banks. We accept personal checks, and all personal checks will be held 5 business days to clear. We do not accept cashier's checks, money orders, third party, or traveler's checks. Please include your AMP trading account number in the memo section of the check.
Checks can be mailed to the following address directly:
AMP Global Clearing, LLC
221 N. LaSalle St.
25th Floor
Chicago, IL 60601
2. Bank Wires (the recommended method)
Please see below for our wiring instructions for US Dollars. If you would like to send your funds in another currency, please click the following link:
http://ampclearing.com/funding_instructions.html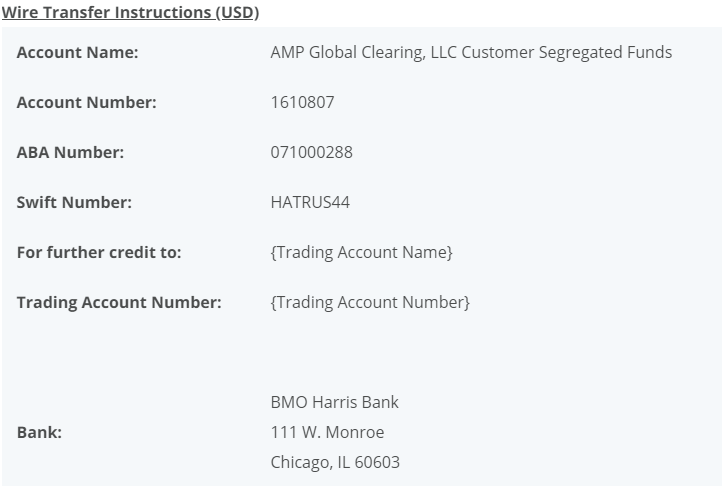 Wire transfer is the fastest way of funding your AMP trading account. Due to anti-money laundering laws, AMP Global Clearing can only accept funds coming from an account in the same name as your AMP account.
3. ACH Transfer (U.S. Only)
AMP will only accept domestic ACH Transfers within the US. Please see below for our ACH instructions:
AMP Global Clearing, LLC
Customer Segregated Funds
221 N. LaSalle St.
25th Floor
Chicago, IL 60601

*ACH deposits will be made available in 3-5 business days after an ACH is received.
4. Account Transfers
You may complete the account transfer form included in your futures trading account application if you are a new customer. If you did not complete the form with your application, you may complete and sign the account transfer form attached hereAMP_Account_Transfer.pdfand fax to 561-367-0905 or scan and email toaccounts@optimusfutures.comalong with a copy of your last account statement. Generally, a transfer from another brokerage firm will be considered as cleared funds. This method can take up to 3-5 business days to complete.
As of February 12, 2021, We no longer will be accepting or processing any deposits or withdrawals via any Money Transferring Services.
Here is an example list of types Money services that we will NOT accept:
Transferwise
Revolut
XE Money Transfers
Currency Fair
OFX
N26
And any other non-listed Money Transfer Services.
If you have any questions please feel free to contact us at 561-367-8686 or toll free at 1-800-771-6748.
Optimus Futures
1-800-771-6748
1-561-367-8686
Fax: 561-367-0905