Checks (U.S. Only) –PLEASE MAKE ALL CHECKS PAYABLE TO Gain Capital Group, LLC
Gain Capital will only accept checks drawn from U.S. Banks. We accept personal checks, and all personal checks will be held 5 business days to clear. We do not accept money orders, third party, or traveler's checks. If applicable, include your GAIN Capital trading account number in the check memo. If a new account number has not yet been established for you, please include "Pending New Account".
Checks can be mailed to the following address directly:
Gain Capital Group, LLC
Bedminster One
135 US Highway 202/206
Suite 11
Bedminster, NJ 07921, USA
Bank Wires (the recommended method)
Gain Capital considers wires as cleared funds and allows you to trade immediately upon receipt of funds. Please see below for our wiring instructions for US Dollars.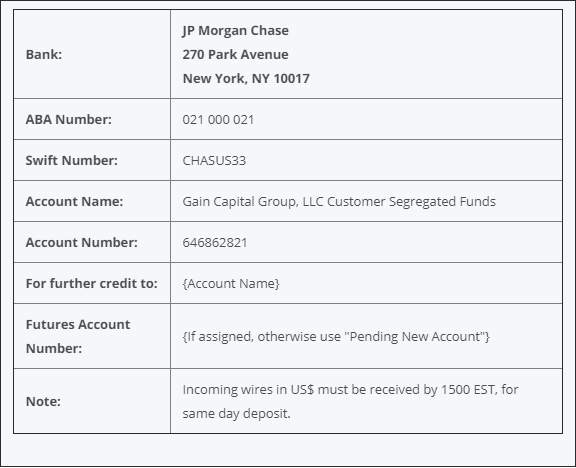 If you would like to send your funds in another currency, please click the following link for complete wiring instructions for various currencies:
http://futures.gaincapital.com/open-account/funding-futures.cfm
If you have any questions please feel free to contact us at 561-367-8686 or toll free at 1-800-771-6748.
Optimus Futures
1-800-771-6748
1-561-367-8686
Fax: 561-367-0905