There are several methods in which users can open the Advanced Trader (DOM) in the Firetip Trading Platform. The quickest method is through the Trading Matrix.
1. Navigate to the trading matrix and left click a futures contract to highlight it. (Highlighted contracts will turn green).

2. Once a futures contract has been highlighted and turns green, left click the Advanced Trader Window button on the trading matrix. This will automatically open an Advanced Trader (DOM) with the highlight contract applied to it.

Users also have the option of opening an Advanced trader from scratch allowing them to apply the contract they'd like by navigating through the Symbol Finder window.
1. This can be done by clicking the Advanced Trader button along the toolbar at the top of the platform window.
2. After clicking the Advanced Trader Button, users will be presented with the Enter Advanced Trader Contract window. This can be used to manually enter in a futures symbol or used to open the Symbol Finder window. The symbol finder window allows traders to manually add and search for a futures contract not presented in the trading matrix. Once a contract has been applied, press the Show Trader button.
2a. Search through the Symbol finder window to find the futures contract you would like to trade, once found click the Add button.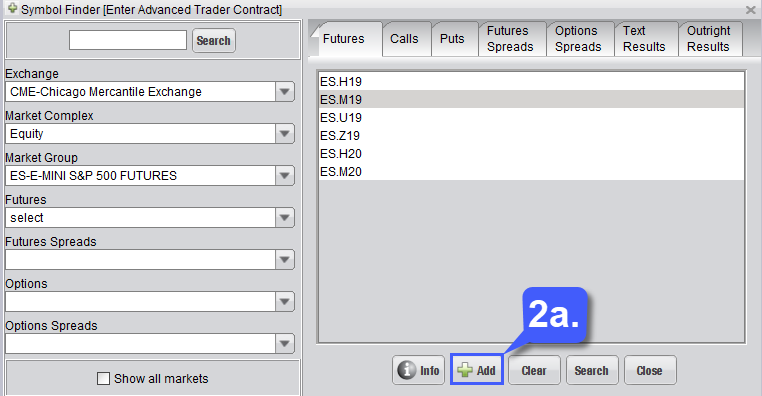 Once the Show Trader button has been pressed, the Advanced Trader (DOM) widget will be fully accessible with the futures symbol the user has selected.