Firetip provides users with the ability to save through the use of workspaces. Workspaces contain any widget that was added to the platform including the location they were placed, as well as any settings applied to them.
1. To save a workspace, left click the Workspace tab in the top left-hand corner of the platform window. If a user already has a workspace created and would like to save any changes made to it, the user has the option of clicking the Save button.
If the user would like to save a new workspace from scratch, left click the Save As… button.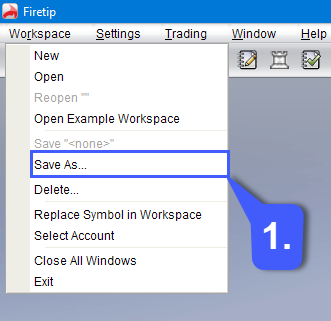 2. Once the Save Workspace As… window is open, enter a name for your workspace in the Save As: field. Once a name has been selected, left click the OK button to save any changes made.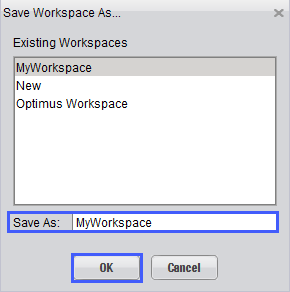 3. To reopen a workspace in the future, navigate back to the Workspace tab and left click the Reopen button. This will open the exact instance of the saved workspace the user created for themselves.