You may deposit funds to your futures trading account in the following ways:
1.Checks(U.S. Only)-Please make checks payable to "TradeStation Securities, Inc."
Personal checks are subject to a 5 business day trading hold and are available for withdrawal after 10 business days. Any checks made payable to Optimus Futures WILL NOT be accepted.
Please be sure to write your TradeStation Securities Futures account number in the memo portion of your check. You may mail your check to the following address:
TradeStation Securities, Inc.
8050 SW 10th Street, Suite 2000
Plantation, FL 33324
2. Bank Wires (the recommended method)
TradeStation considers wires as cleared funds and allows you to trade the next trading day if funds are received prior to 4PM EST. Please see below for our wiring instructions for US Dollars.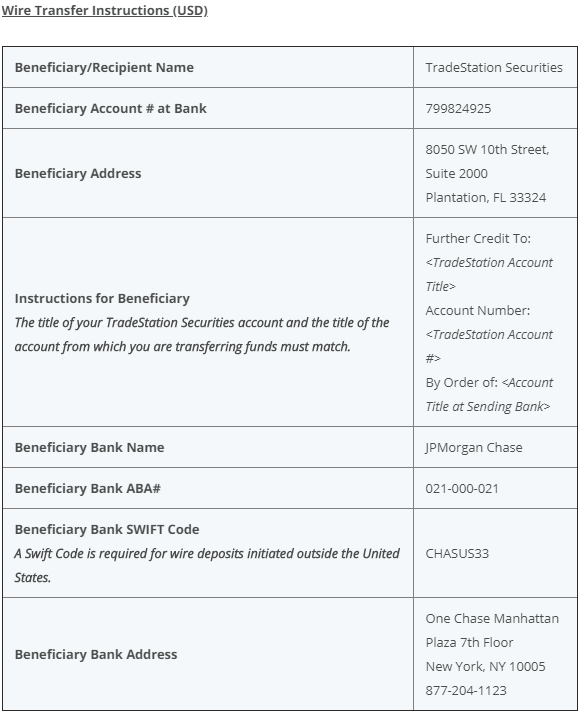 If you would like to send your funds in another currency, please click the link below for appropriate instructions. Source funds wired via instructions for a non-matching currency will be automatically converted to the currency matching the wire instructions at JPMorgan Chase upon receipt. This will create a currency rate risk exposure if you should need to convert the funds back to your domestic currency which may result in a noticeable profit or loss. As an alternative you may wire funds in your domestic currency by following the instructions in the link below. Please scroll down to Funding Instructions and make sure you select Futures:
https://www.tradestation.com/accounts/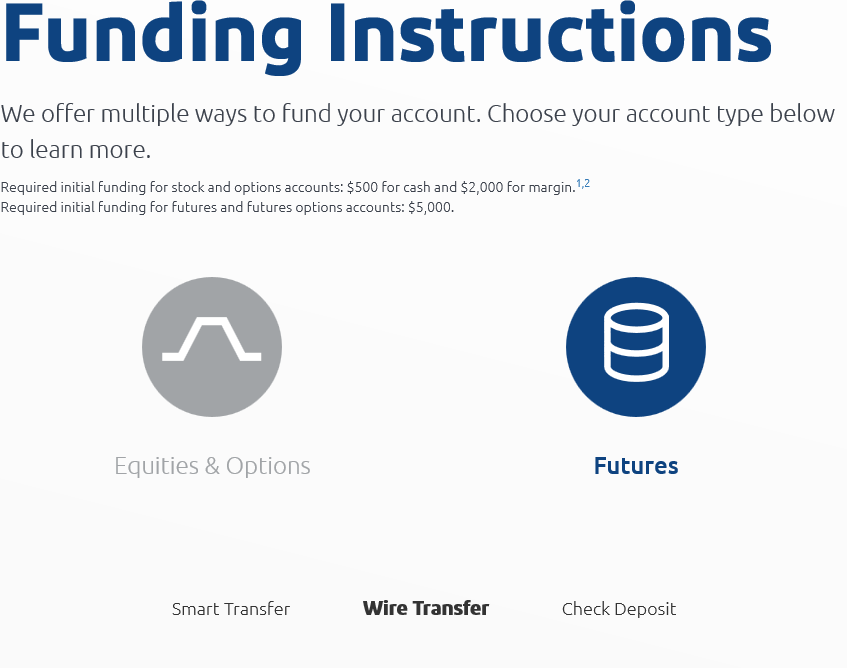 PLEASE NOTE THAT NO THIRD PARTY CHECKS OR WIRE TRANSFERS ARE ACCEPTED BY TRADESTATION SECURITIES, INC.
IMPORTANT NOTICE
Please be aware that all deposits MUST go to our clearing firms. Optimus Futures, LLC is a registered broker with the CFTC and does not hold customer funds.
All deposit instructions are available on our website or sent via email from the accounts@OptimusFutures.com email address.
Employees, brokers, or directors do not correspond over their personal email for deposit purposes.
Please exercise caution when sending funds, and if anything appears suspicious, please report it to us ASAP.
If you have any questions please feel free to contact us at 561-367-8686 or toll free at 1-800-771-6748.
Optimus Futures
1-800-771-6748
1-561-367-8686
Fax: 561-367-0905